Excitebike is a motocross racing video game franchise made by Nintendo. It first debuted as a game for the Famicom in Japan in 1984 and as a launch title for the NES in 1985. It is the first game in the Excite series.
Ports & Remakes
Excitebike has appeared on a number of gaming platforms since its original debut in 1984.1
Vs. Excitebike was an enhanced version released for arcades in 1984 and the Famicom Disk System peripheral in 1988.
A version of the game was released for the Japan-only NEC PC-8801 and Sharp X1 by Hudson Soft in 1985.
Unlockable on the Nintendo 64 sequel Excitebike 64.
Unloackable on the Animal Crossing for Gamecube.
In 2003, it was released as a five E-card set game, entitled Excitebike-e, for Nintendo e-Reader, a device for Game Boy Advance used for scanning special "e-Cards" to play games, obtain information, or unlock special content.
In 2004, it was released as part of the Game Boy Advance "Classic NES Series". This version is the first non-Japan version to allow the player to save their tracks, although this port only has one savable track.
The game was added to the European Virtual Console on February 16, 2007, the same day its spiritual successor, Excite Truck, was released there. The game was added to the North American Virtual Console on March 19, 2007.
The Nintendo DSi includes an Excitebike visualizer that is used while playing music from your SD card on Nintendo DSi Sound.
Excitebike: World Rally, a WiiWare game, was released for download on November 9, 2009.
3D Classics: Excitebike was released on Nintendo 3DS as a free launch title for the Nintendo eShop in America, Japan and Europe. The game features 3D support and analog support. This release was featured among other games from the Nintendo Entertainment System and Super NES to be released for the 3DS on a tech demo called Classic Games at E3 2010. The game allows the player to save up to 32 custom created tracks and can played in either 2D or 3D.
Excitebikers in Super Smash Bros.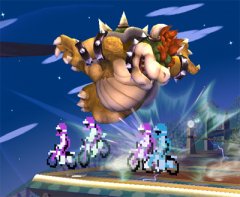 In Super Smash Bros. Brawl, a gang of of Excitebike racers appear as an Assist Trophy helper (in their original sprite form), racing around the stage damaging players.
Trophy Description:
High-performance motocross bikes that handle massive jumps with ease. Using turbo on these beauties gives a speed boost but also causes the engine's internal temperature to rise. Overuse turbo, and the bikes overheat and shut down. The engines can be cooled by running over certain marks on the track. Excitebikes cap off every race with an undeniably awesome wheelie.