BlogRecently, I attended QuakeCon in Dallas, TX. For those of you who may not know, QuakeCon is an annual event, where many computer companies and developers come together to showcase their latest and greatest. The first con started in 1996 and has continued every year since then. This was only my 2nd time to the event; my first was in 2009, but some of my close friends have been going every year since 2003. The convention is always held in Dallas (or one of its suburbs), and usually occurs during the 2nd weekend of August. Every year, people look forward to QuakeCon to preview the newest games, and this year did not disappoint! There were four main games that were showcased this time around-Fallout: New Vegas, Brink, Hunted: The Demon's Forge, and Rage. Companies like Bethesda, Alienware, and Nvidia all had their own booths with all their newest wares. I can honestly tell you that Bethesda has pretty much taken control of the entire convention, not just because it's parent company, ZeniMax Media, bought out id software, but because their booth was the only place to display all 4 games. But the exhibits are only half of the entire QuakeCon experience. The other half is, what most would consider, the largest massive LAN party in the nation; if not the world! People from all parts, come to compete in the BYOC (Bring Your Own Computer) events. It is literally one massive room filled with nothing but tables with computers on them. Here they play tons of different games, such as Warhammer Online: Age of Reckoning, World of Warcraft, and of course the game that started the whole con; Quake. There is also a projector they have set up on the wall, for people to play console games anywhere from (what I saw) Killer Instinct to Guitar Hero.
The following will be pictures that I took with descriptions about them. I apologize in advance if some of quality of this pics isn't that great, so please bear with me.
I have to start with the Bethesda Softworks booth, mainly because it was the biggest one there. All the demos were there ready to be played; with the exception of Rage which was just a video. I must say that Fallout: New Vegas looks every bit as awesome that I thought it would be. The controls just felt so natural and smooth and it seems it will totally overshadow its predecessor, Fallout 3. Truly, a game to check out once it hits stores Oct. 19. Brink looks like it will be a very interesting game indeed. Now, I'm last guy to recommend a FPS, mainly because that genre has never interested me, but I can say that I truly had a great time playing this game; despite the almost hour long wait in line. Brink is a game that seems to relay entirely on a co-op mode. Basically, you will be in a group of four, and will either be on the attacking force or the defending side. There are four classes the player can choose from. The first class, Soldier, can resupply teammates with ammo and carries high explosives to destroy key targets. The second class, Engineer, is geared more for fixing things. Engineers can buff their teammates' weapons and can also place turrets at strategic locations. The third class, Medic, primarily heals downed teammates, though they also buff their allies' health. Even if you have already been killed and waiting to re-spawn, the Medic can toss you a "life syringe", which will completely restore your health. The fourth class and my favorite is the Operative. The Operative deals mostly behind enemy lines, hacking objectives and performing acts of sabotage. Operatives can interrogate downed opponents to provide intel on enemy locations or disguise themselves and operate as one of the enemy. I overheard one of the guys working the booth say that this was only the pre-Beta version of the game; but it already looks fucking awesome. Unfortunately, this game isn't set for release until September 2011; which will not be till after next year's QuakeCon! So, we will have to wait a little while longer for it. The video for Rage is hard to describe. The first part of the video made it look like a Fallout-style game what with a setting that looked like the aftermath of a nuclear war; but with kinda a wild west theme going on. However, the 2nd half of the trailer consisted of nothing but a kind of racing game. So, I can't really say much about this game; but it will be interesting to see if they can pull off combining two different types of genres, FPS and Racing, into one game. Sadly, I must say that Hunted was the only demo I didn't get around to playing, so I can't really comment on it.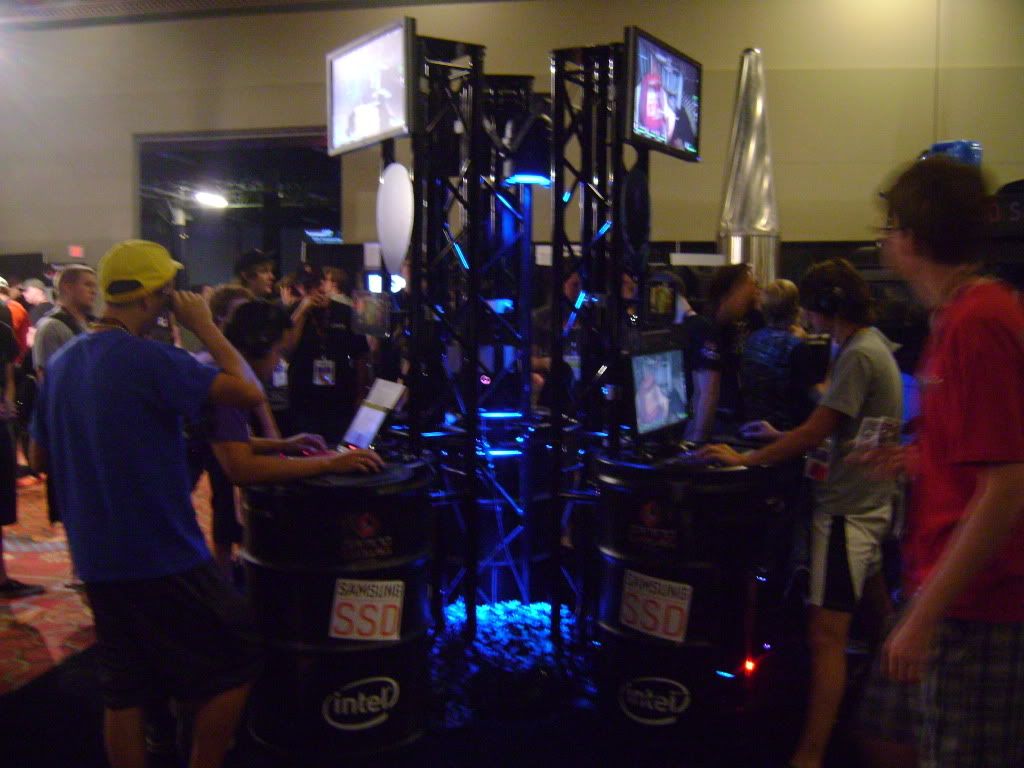 The Alienware exhibit was by far the most impressive, in terms of physical appearances. They had a big old army-style Hummer; which they had basically converted into one giant gaming machine. Every door on the vehicle that you could open would have a big screen with a keyboard or a controller to play with. The top part of the rear of the vehicle had been converted to sit up to 4 people, while a tower like structure stood in the middle that connected 4 big screens that the players had to look up in order to play. As much as I tried, I couldn't get a decent picture of this awesome behemoth. There was just too many people walking around, so I must apologize. The booth mainly focused on conducting tournaments for Left of Dead 2, Killing Floor, and Street Fighter IV. This part of the booth didn't really showcase anything new in terms of new hardware, oh no, they left that to their other booth located just next to it.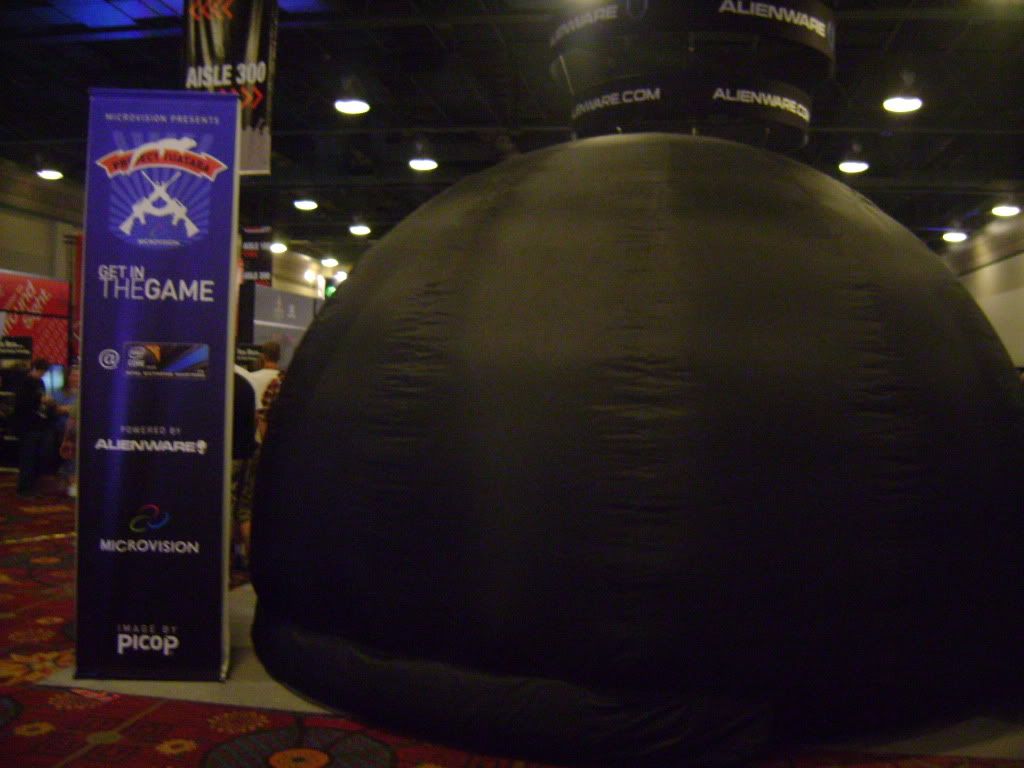 Aw yes, the mysterious Project Tautara. It was certainly the thing that most stood out at this year's QuakeCon. Walking by that big ass black dome-looking thing certainly made people wonder what could possibly be inside. So what is it? The only way to describe it is, man's closest attempt to actual Virtual Reality to date! At least that is what everyone coming out it was saying. Oh my god, the line for this thing was ridiculous; basically you had to have at least 5 hours to spare if you wanted to play it. I hate lines, so I didn't even bother waiting; don't give damn how amazing it is, I'm not standing in one place for that long. Fortunately though, 2 of my friends that I went with, did go. They went a hour before the thing even opened and still had to wait almost 3 hrs. before they got their turn. Although it's called Project Tautara, the game that was being played was actually an Operation Flashpoint title. When you walk in, you are give a replica of an actual assault rifle which serves as your controller. Not only does it look a real gun, they told me that it weighs about the same as a real one does. The demo itself was very short, but they told me that you had to do a lot of things. For one thing, you have to actually walk or run in place in order to move. Turning requires you to actually turn your entire and as you do it the screen will follow you, so that it will always be in front of you no matter what direction you are facing. One of my friends said something I thought was interesting. He thought that someone would only be able to play this for a certain amount of time due to the fact that most people would get tired really soon from having to hold something roughly the same size and weight of a real gun; not to mention the running in place. However, I'm confident that they will have enough time to work with it, because if you think you'll have to wait a while for Brink, its a least 5 years away, if not more, before Project Tautara even sees the light of day on the open market.
Here we see the Nvidia booth. This was by far my favorite booth at the expo; mainly because they where the only booth that had 3D computers. Can you say Fallout: New Vegas in 3D, because I sure as fuck can! The game play was awesome in 3D, it took a minute to adjust to it, but soon it felt almost natural. They also had the new Need For Speed title in 3D which was just as fun. At first, the 3D seemed minimal, but that all changed when it went to the 1st-person cab view. Truly, racing games will have a great advantage in the 3D realm. They also had their new computers showcasing their new hardware with older games such as, Dirt 2 and Supreme Commander 2; as well as even Devil May Cry 4 which has been out for over a year.
There were also smaller booths there. One that was being sponsored by the Air Force Reserve, had a meet and greet with the creators of Call of Duty, Vince Zampella and [Jason West]. Many booths have survey's you could take about their products; which upon completing it would net you a free hat or poster; some would even give you website to go to where you could get exclusive stuff like a Company of Heroes ONLINE beta key. There was one booth that was exclusively devoted to just playing Quake Arena Arcade. There was also a petition booth that you could sign if you were against California's governor, Arnold Schwarzenegger, plan to "prohibit the selling of any type of video game to people under the age of 18" (that's their words, not mine). For more info on this see Post# 2038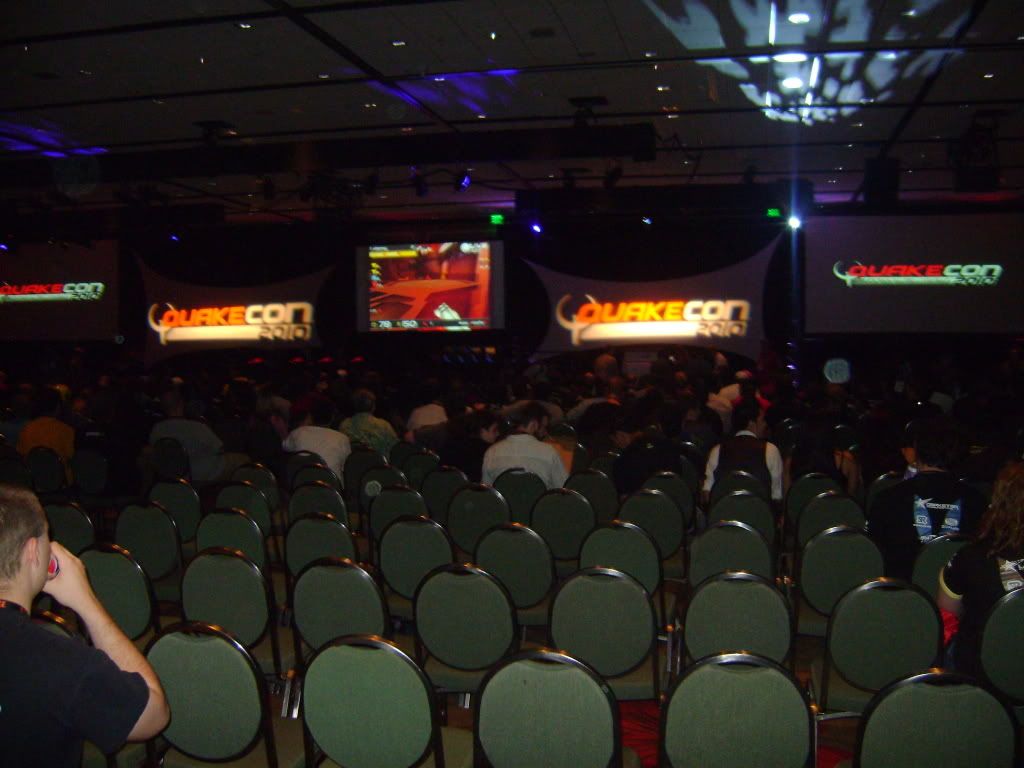 This is a picture of the closing ceremonies, where the teams that made it to the finals of the Quake tournament compete in front of everybody, using the new Quake Live system. However, more people seemed to be interested in the free all-you-can-drink beer that they have here every year.
In conclusion, QuakeCon 2010 was a blast! I had so much fun and really enjoyed my time there. Throughout the whole convention, Companies are just throwing out to the crowds, literally, the latest, top-of-the-line equipment, such as headphones, memory cards, etc; stuff that won't even be on sell to the public for another 1 to 2 years! If you are in the Dallas area around the second week of August, do yourself a favor and check out the stuff at QuakeCon. You will not be disappointed!
Click here for trailers:
Brink: http://www.youtube.com/watch?v=xYvAAb2qEFk
Rage: http://www.youtube.com/watch?v=0jecDe-rK24
Hunted: http://www.youtube.com/watch?v=Rb2bqb28zwM