BlogOn August 4th thru the 7th, QuakeCon 2011 kicked off with its usual flare. While there wasn't as many booths as there were in previous years, there was still a lot to see and do. Bethesda once took over hosting duties and things quickly got under way. I was there for the event and the following is what I saw and experience.
The main game premiering this year was id Software's Rage. This game has been six years in the making and was only shown as a video last year. Rage is interesting for its unique mixing of the FPS and Racing genres, with a few puzzle elements thrown in as well. The booth had about twenty different screens at it. They had 6 different campaign levels as well as a multiplayer match you could play, each at certain parts of the booth. The level I played was called Life in Prison, which I played as a co-op mission with whoever was playing at the screen next to me. It was pretty hard at some points, but I must say that the controls (I was using a 360 controller) were very fluid and the graphics were very detailed and polished. The mutant guards were pretty vicious and not so easily killed. You couldn't really go against a lot of them at one time or they would slaughter you in seconds. Definitely something to check out if you into a Doom meets Fallout meets Twisted Metal type of game.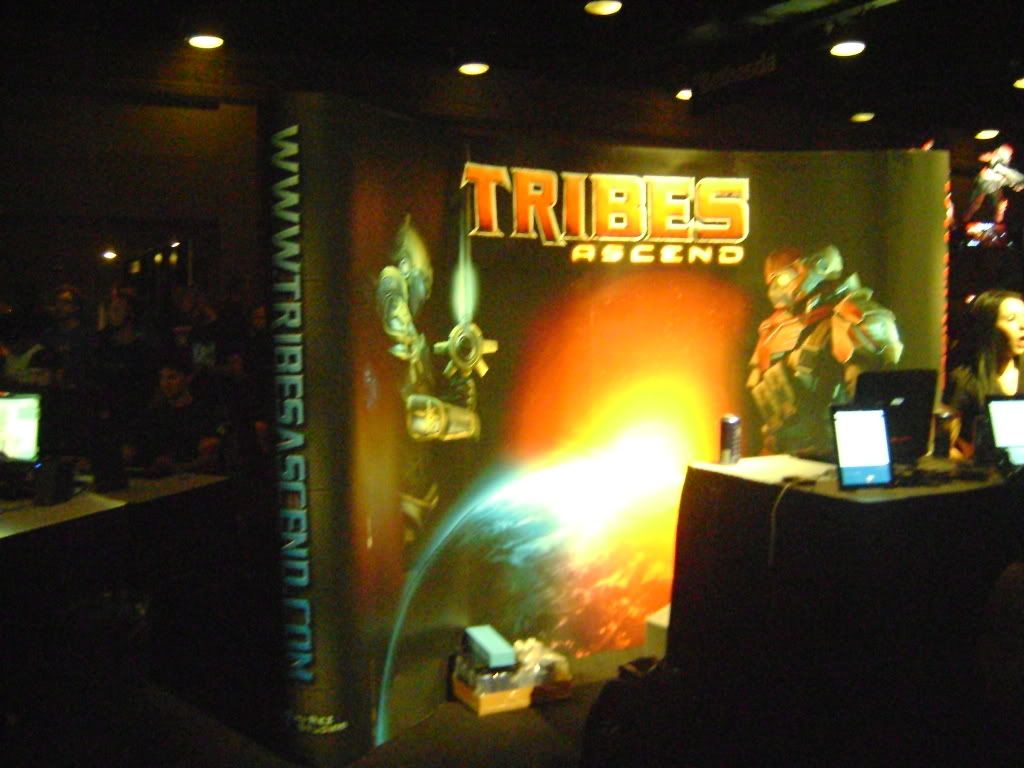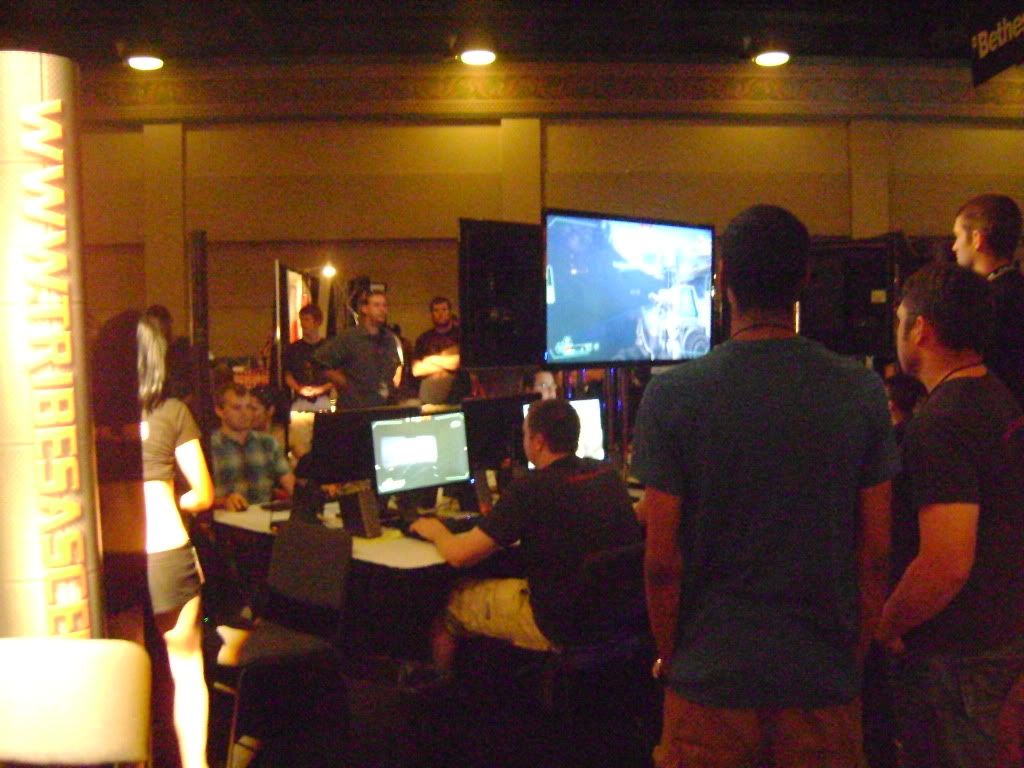 The only other playable new game at the convention this year was the long awaited new installment of the Tribes series, Tribes: Ascend. This multiplayer-only FPS runs will run on a modified version of the Unreal Engine 3 and is being developed by Hi-Rez Studios. I didn't get around to playing it, but some of my buddies did. Apparently, the only mode of gameplay being displayed was a capture-the-flag battle. The flag was in a valley in the center of the map and the best way to get it was to run down grab it then use your jet pack to rocket back up the huge steep slope before you got blasted by the enemy. The only other main attraction was the Tribes Girls handing out free Tribes swag and taking pictures with convention goers. Honestly, I had never heard of Tribes before and to me the game looked exactly like Halo with sped up movements, but if anything it was Halo that copied off of Tribes.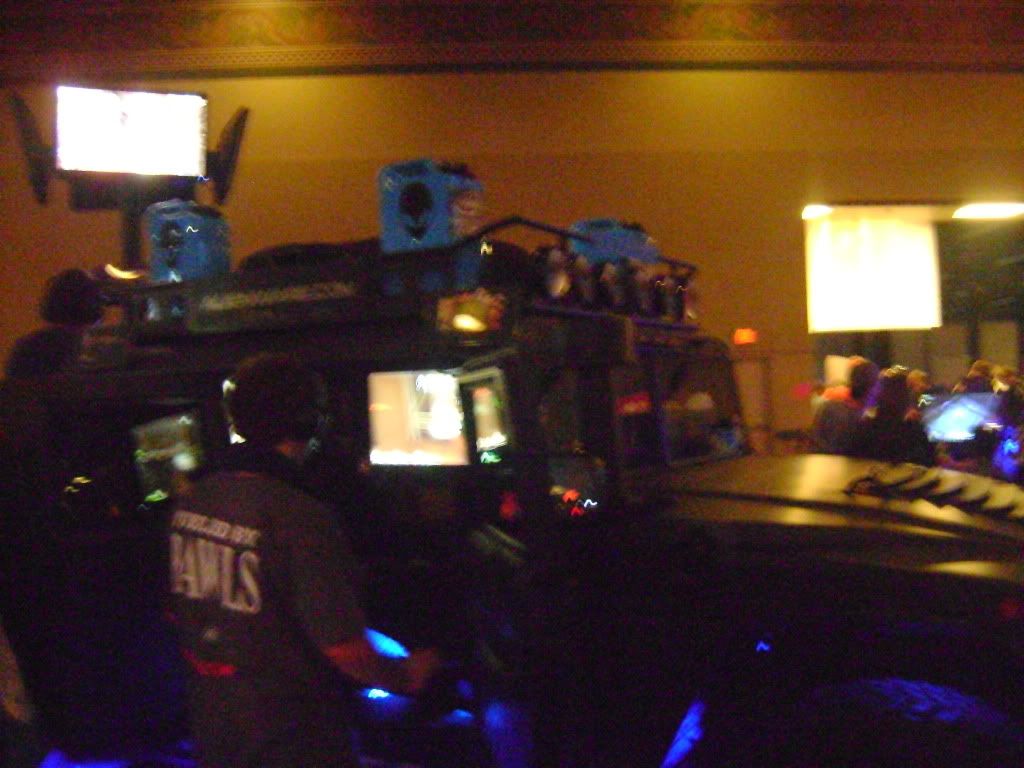 As usual, Alienware was there with their booth and their awesome Hummer that had been modified to play games out of. Their booth mainly consisted of gaming tournaments of several games like Left 4 Dead 2 and Team Fortress 2. One of my buddies played a game there called Pay Day, which is a full-on bank robbing simulation, where you must plan, rob, and successfully escape with the money. One interesting thing they were showcasing was the new Alienware: Teleport. This thing is pretty cool. Basically, what it is is a program that can run three different games off from the same computer. There were three monitors hooked up to it so you play Left 4 Dead 2, Street Fighter IV, and League of Legends all from the same PC; its a pretty cool concept.
Of course, it wouldn't be QuakeCon without the BYOC (Bring Your Own Computer) gathering. Its the biggest LAN party in the country; its massive. This is where the gaming tournaments for Quake and, new this year, Brink tournaments. Also, big this year was Bethesda apparent partnership with ATT, who provided the about five times the bandwidth than previous QuakeCon events. So that was all hyped up. The BYOC also featured Super Smash Bros. Brawl tournaments, Guitar Hero face offs, etc.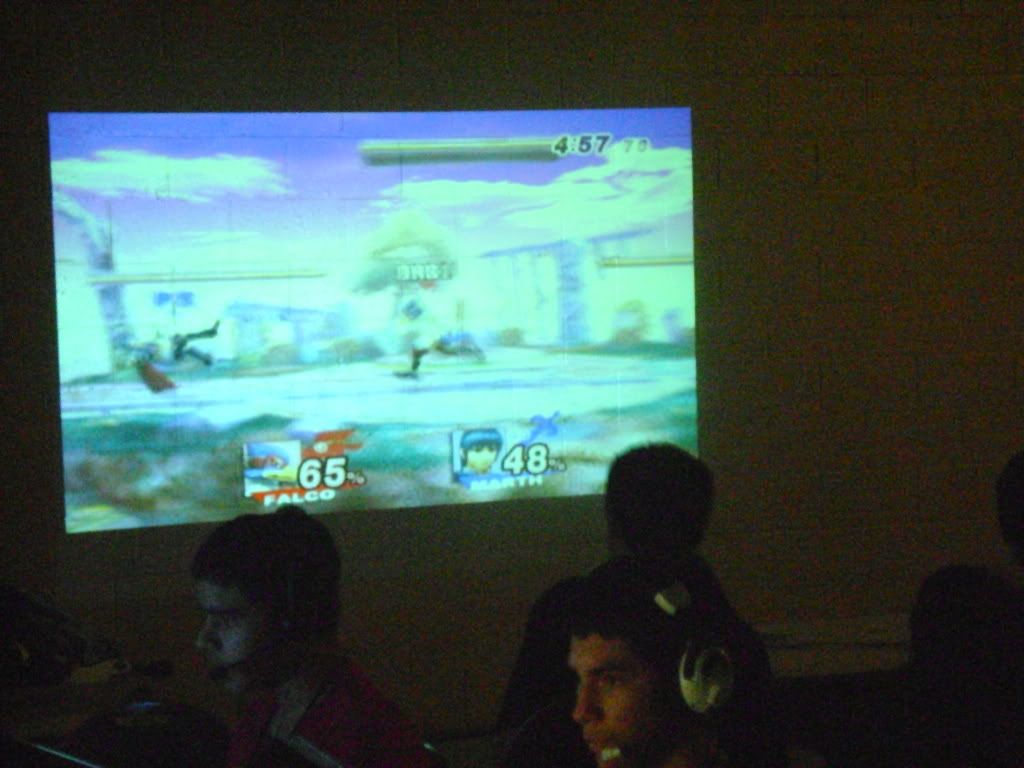 It was a little sad that there where very little major booths this year. There were some miscellaneous booths like some guys who design custom mouse-pads, that had things like samurais and other Eastern images, you could sign up for a one year free subscription for CPU magazine, and other smaller computer companies had their various wares out for display. One also had a TV where people were playing Marvel vs. Capcom 3: Fate of Two Worlds. The big drawing this year was a brand new Rage edition customized truck. I very nice automobile featured with a nice mural of some Rage game art behind it.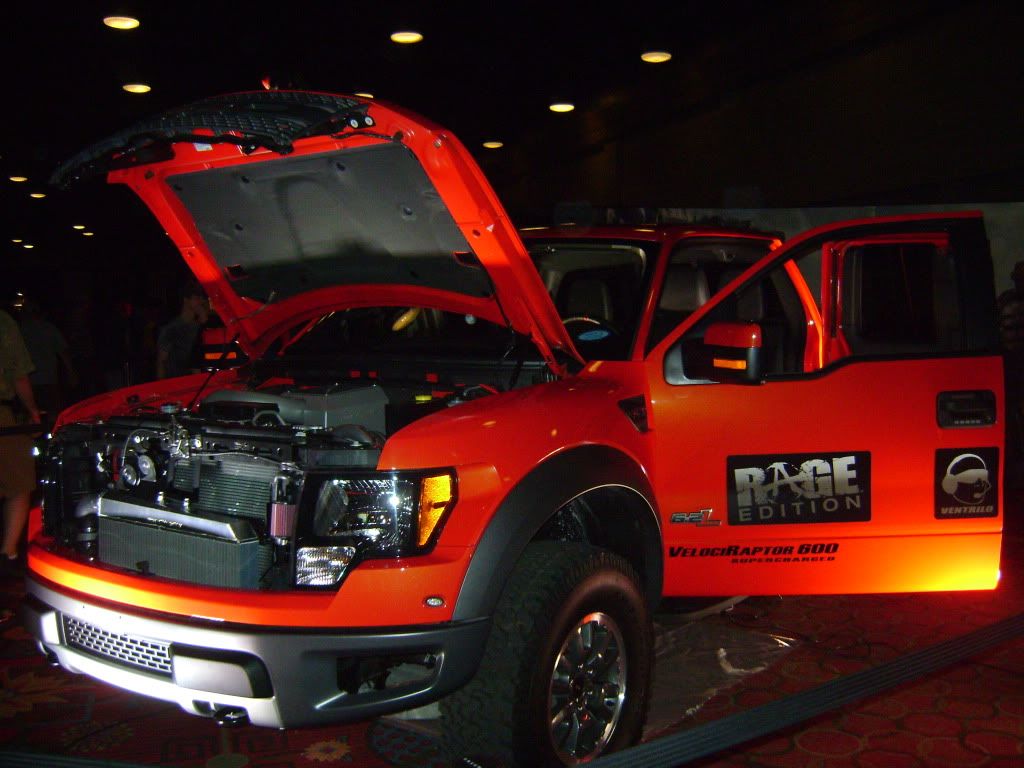 With that said, this year had many more discussion panels than last year.
The first day, Thursday, saw only the opening ceremony followed by the annual "Carmack's Talk" with technical director and co-founder of id Software, John Carmack. Friday was the biggest day for events at the convention. The big announcement was the QuakeCon pack available for Stream accounts, that features every game made by id and Bethseda. We're talking all the Dooms, Wolfensteins, Fallout 3, Fallout: New Vegas, Brink and Commander Keen just to name a few. It was a $700 deal available for that weekend only for $69.99! By far the biggest event, and my favorite moment, was the first worldwide public demonstration of The Elder Scrolls V: Skyrim played by the game director Todd Howard from Bethesda Game Studios. All I can say is WOW! This game is gorgeous! This is definitely a game that you'll want to play on the PC to experience the graphics as they were meant to be. Skyrim will also be available for PS3 and 360. The demo that Howard played was in fact being run off the 360, which was met by incessant booing. This in-depth RPG is sure to keep you occupied for many months. If your a fan of Oblivion, Howard let slip that the Dark Brotherhood would be returning in this game as well. I found the recording of the actual demonstration here. Its about a good 40 minutes so settle in.
While there were a few other panels, the only one I really wanted to see was the 20 Years of Id Software. The panel featured John Carmack, Tim Willits, Todd Hollenshead, and Kevin Cloud; basically the guys that had been there since the beginning. G4TV Attack of the Show!'s Morgan Webb was also there acting as moderator for the panel. Basically the whole thing was just a look back/timeline with all the guys talking about their first years at the company and about all the memories they had making their games. At the end there was a Q & A session, however there were some rules when asking your questions. The big one was that you couldn't ask them any questions concerning Doom 4, which personally pissed me off because that was the main reason I went to the fucking thing! Carmack constantly keep stressing that "This is the year of Rage", so thats all he wanted to talk about. However, he did mention after the Rage team had put the finishing touches on the game, they would join the rest of the Doom 4 team to in an effort to speed up development. After that, Carmack hopes eventually to able to do Rage 2.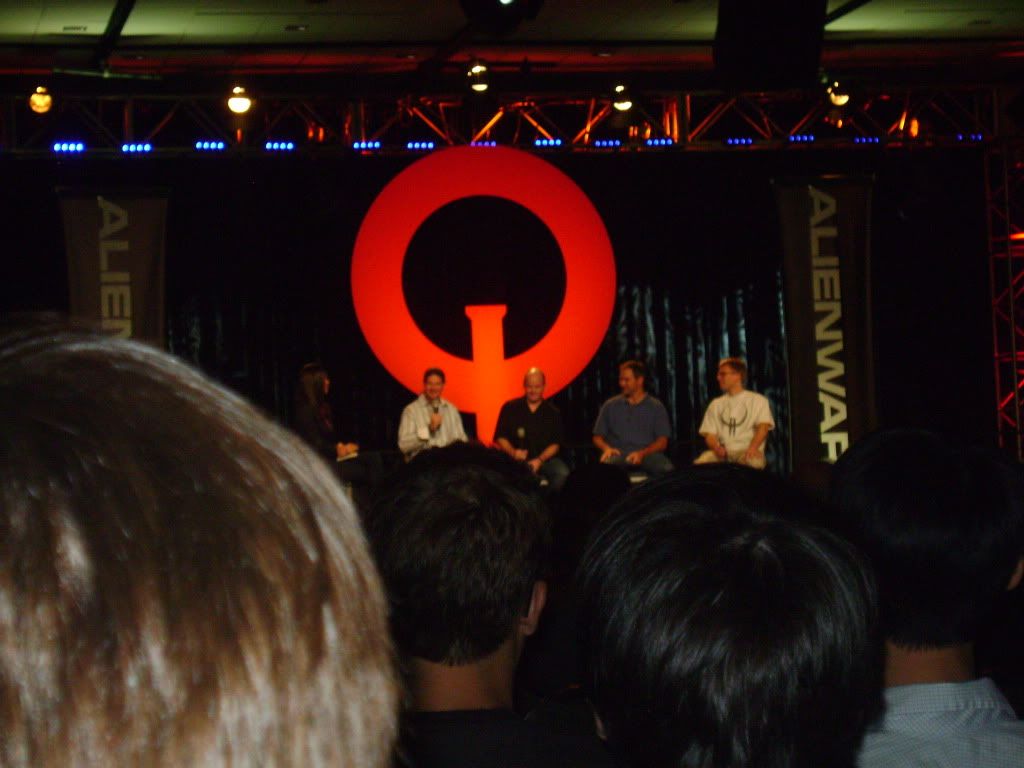 (Sorry its kinda far away, but this was as close as I was able to get. Featured from left to right: Morgan Webb, Todd Hollenshed, Tim Willits, Kevin Cloud, John Carmack)
There were other panels as well, most notably a worldwide premiere demonstration (similar like the Skyrim one) of Prey 2 by Chris Rhinehart of Human Head. However, I didn't bother sticking around to waiting for it, seeing as all I've heard about the original Prey was that it sucked ass; at least that was the general consensus from the people I talked to at the convention.
As usual, the last day saw the closing ceremonies with the finals of the Quake Live tournaments and the first ever Brink Open Championships and the first ever 4v4 Ouake Live TDM tournament. While no free buffet this year, there was still all you could drink free beer at least.
All in all, this years wasn't as great as last year's, but it did have its moments. Hopefully, next year there will be something about Doom 4, but for now we can only guess. So, if you're ever in the Dallas area around the first weekend of August and love playing games, stop on by the QuakeCon convention and enjoy. Rage will be hit stores 10/4/11 and Skyrim will follow after on 11/11/11.